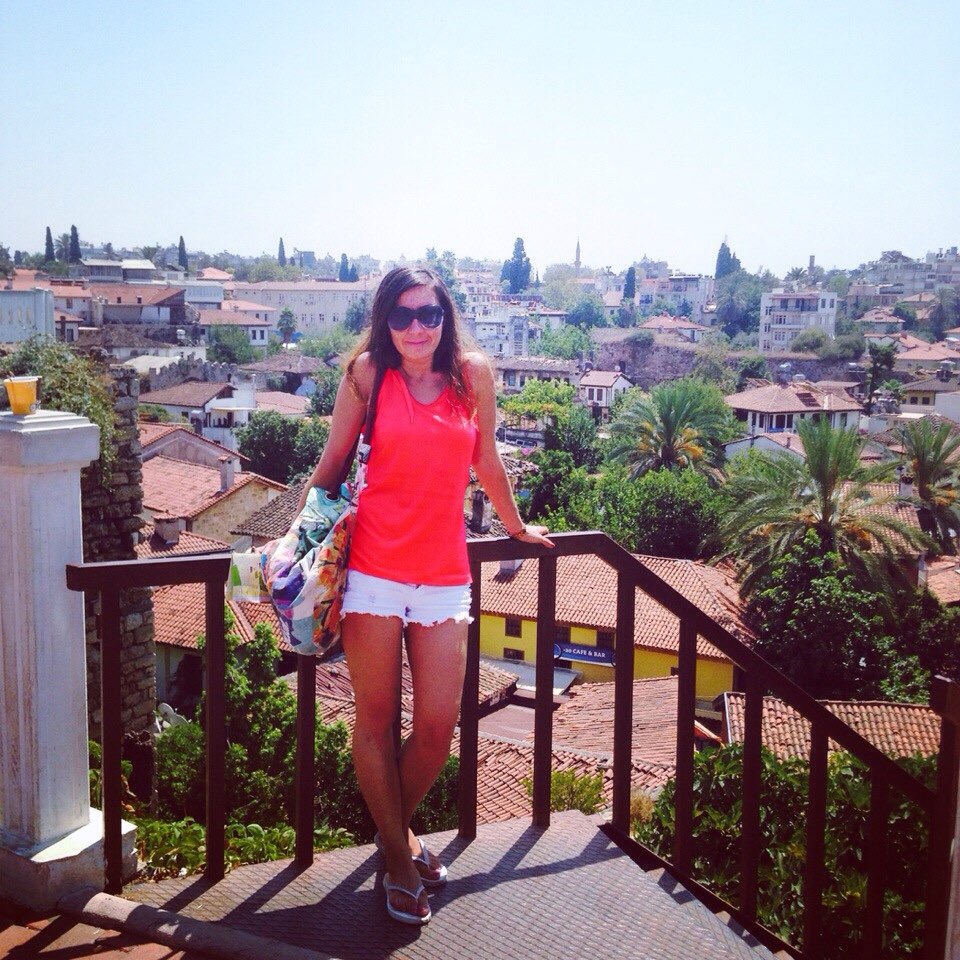 To Russians like me, Turkey is an iconic place – we believe that you haven't traveled the world until you have been to Turkey. Also, this wonderful country is a very special place for me, because I belong to the oldest Tribe known as the Tatars and we are of the same group of people as the Turks. We are Turks.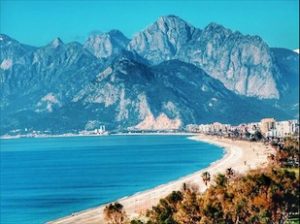 Istanbul is at center of everything Turkish. It is amazing and a must to visit but my story is not just about Istanbul.
My mother had her flight booked to Antalya and I decided to join her.
Antalya is a beautiful southern getaway, a dream come true living spot, at least my dream come true, Mediterranean sea is warm and well known for its turquoise waters and it surrounded by the mountains. That is basically all I need to feel to be completely happy – the beach and the mountains.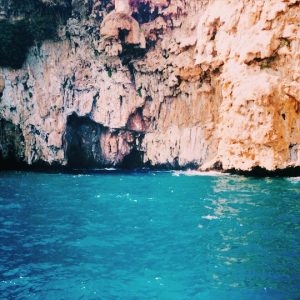 Antalya is the most populated summer travel destination in Turkey along with Alania, Marmaris and Bodrum.  It is large and vibrant city, welcoming tourists and numerous resorts, hotels, bars and restaurants. It gets very very hot and humid on summer time. So if you don't like heat your best time to visit March to May; September to October. June, July and August are killing hot.
Antalya is divided into different areas and populated with tourists from all over the world. I stayed in Konyaalti Beach area, which is a big sister of another very popular area – Lara beach. Konyaalti is about 30 min drive from the airport.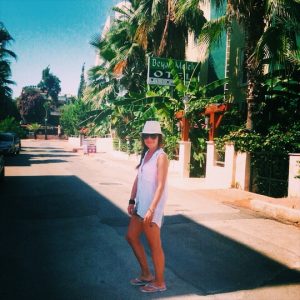 Not too many people speak English in Turkey In those areas. Strange right? You would think so many tourists. It can be a little challenging sometimes to communicate, but the fun part about it that they still try to help you, even the wrong way.
I stayed in a cute little hotel that was five minutes walk from the beach. Check this out Antalya Meltem Hotel.  
Day 1: Checking in and exploring hotel area. Very close to the shops and restaurants, night life, outdoor and indoor dining. I found this cute little spot with a great seafood and service Konyaaltı Balıkçısı. 
By the way you must try lentil soup in Turkey. They make it their own way and it is sooo good.
Day 2: The beach. The path to the beach goes through beautiful park and many restaurants along the beach but you do have to cross the road. Please note!: If the traffic is insane do not expect them to stop and let you pass by! Most of the Turkish drivers don't care about pedestrians. Even more: they don't stop on a light for you, when it is time to walk. So be very careful before you cross the road, stay closer to the group of people or just wait till you see no cars on a road.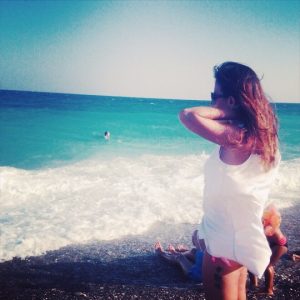 Beach plays a big role for families on summer time in Turkey. Turkish people love love love to spend time on the beach. They pack their luggage bags, bring pots and pans, pillows and blankets. They stay on the beach, sleep on the beach, cook and play all day and all night. So beach area is very safe at any time of the day or night.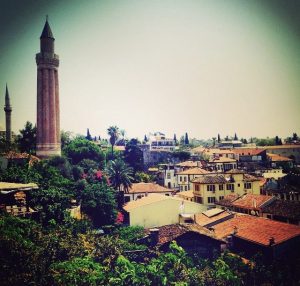 Day 3: Heading to the city. Anyone you ask in Antalya will tell you that the best way to spend a day is to go to Old Town – Kaleici- is the picturesque old quarter in the center of present day. With its narrow winding streets and historic wooden houses, bars, restaurants and Ottoman-style boutique hotels, it's a lovely place to wander around or base yourself while visiting Antalya.
Narrow streets take you down to beautiful Marina where you can get on a cruise and explore Antalya from the water.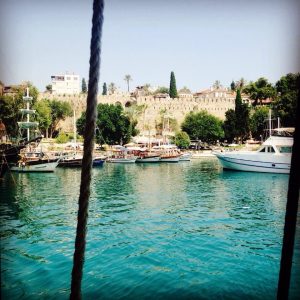 You have multiple choices such as going fishing, visit local islands, have family trip on a Pirate ship or go see Duden Waterfalls. The magnificent waterfalls is one of the major attractions in Antalya, located in a small park, it can also be reached from the land.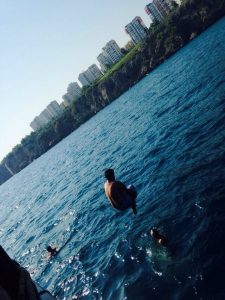 The boat ride is fun, it has music and drinks, it stops and floats around the falls. We were also drifting not far from the place and our captain let us dive into the water.
Once you back to Marina there will be another place worth to check. If you walked the Old Town down, you see an elevator that is actually brings you up, back to the main street. This is a very popular spot and at the top you will find an observation deck, and you will get a chance to see the city from the bird's eye.
You can move around by taking a bus or a tram. It is pretty affordable, but again, sometimes it is hard because not so many people speak English, you may prefer a cab. Also your hotel might be offering shuttle services to the Old Town.
Day 4: Shopping.  If you like shopping the roads will take you to Antalya Mall. I guess for someone it could be a day worth of spending. The Mall is big and it has many stores inside, you will find the world's most famous designers so as local authentic stores. But if you really want to buy some traditional cloths or souvenirs the best shops are back in Kaleici. Everyone's must have picture "I <3 Antalya" is right upfront of the main entrance of the mall.
Day 5: Aquarium.  I have been to so many Aquariums all over the world. I will be honest – I don't recommend this one. At least not for the price that they charge you. Unless you have kids. They will probably enjoy it.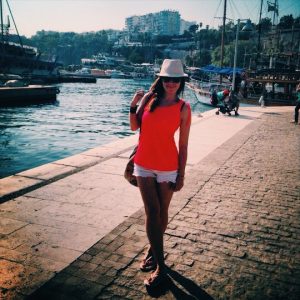 Day 6: Storm.  Out of two and a half weeks spending in Antalya we've got lucky to get one day of rain. Rain brought storm to the shore. Storm brought waves. Once I've heard there are waves – I went swimming. DO NOT do it unless you have someone next to you or watching you from the shore, it is very very dangerous, well, me, myself and I didn't think about it that time. I was just thinking about fun. But waves were a lot higher than me (5.3inches) and I've almost drowned. Their power easily throws you to the open ocean. Luckily there were group of people around me that pulled me out.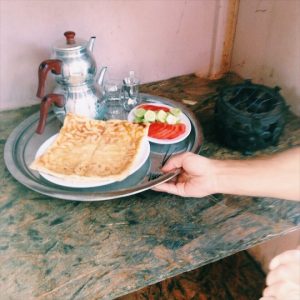 Day 7: Traveling to the mountains.  Antalia surrounded by beautiful Taurus mountains and Konyaalti owns the dramatic backdrop of what it calls Beydaglari mountains. The road to the mountains goes through olive plantation and its only about 20 minutes drive from Konaalti Beach area.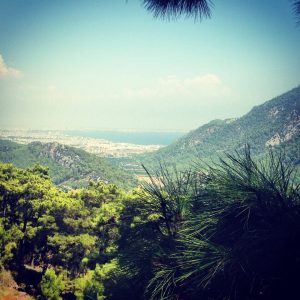 The mountains swirl around and you see breathtaking views of Mediterranean Sea and all the city. While you are getting to the top, you see small villages and beautiful privately owned houses. I was so lucky to become friends with locals so they showed me around all secret spots and one of them is a restaurant (or snack bar-whatever you call it)!  And it is on the tree! Yes, yes ! On the tree. The best seat is all the way at the top. It is not only a unique way to have lunch or snack, it is very relaxing just to sit there and overlook Antalya. Food comes in a "self-made type of elevator". And serves traditional Kaymak ( Turkish pancakes) or traditional Kozleme ( flat bread with cheese and potato ), and Turkish tea. Pretty cool experience.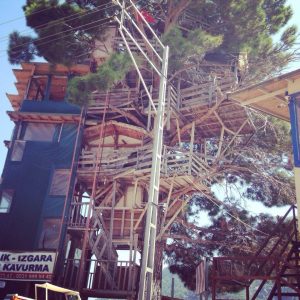 Some other places I recommend to visit is the area close to Karpuzkaldiran Beach on a way to Lara. That is where you can find beautiful parks, cliffs and walk to beautiful Duden Falls.
Walk The Turkish Riviera (Turkish: Türk Rivierası), also known as the Turquoise Coast, famous for its waters, cliffs and nice restaurants.
You might have heard about the mineral-rich thermal waters flowing down white travertine terraces on a nearby hillside. This is Pamukkale. Turkish main attraction.  If you want to go see it, it is about 5-6 hours drive from Antalya. The best time to go is early morning. You can always stay overnight in local town with the same name Pamukkale. Also bus tours run there often.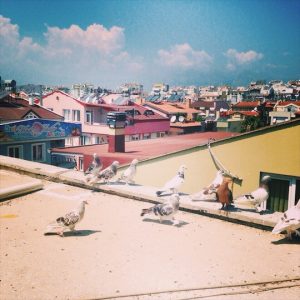 Another fun areas of Antalya:
Yivli Minare (fluted minaret).
Ataturk Caddeci. Hadrian's Gate is one of the main entrance gates into the Kaleci district
Roman Fortress (Hıdırlık Kalesi)
Aspendos – the home to Roman Theater.  This one was recommended by Google but not by my Turksih friends. So I have not gone.
Turkey is one of those places that leaves you with a great memories and you always want to go back. There are so much to see and to do. Turkey is  history, Turkey is hospitality, Turkey is food and art, Turkey is movies. And I am not even joking, Turkish film production is on the rise. My personal favorite movie calls Mustang, it shows you Turkish reality and how five sisters cope with it.  As for drama I MUST mention "The Magnificent Century " series. It is based on the life of Sultan Suleiman, the longest-reining Sultan of Ottoman Empire and Hurrem Sultan, a slave girls who became the most powerful woman of the century. I have seen it three times and I absolutely love it.
Beautiful actors, costumes, scenes… Just like Turkey itself, modern but conservative, criss-cross of Europe and Asia, your must visit place!
Read how I was on a run in Istanbul!