Myths of PR:
Myth #1:
There are no beaches near Old San Juan. Yes, there are.
There is a small beach about a 7 minutes walk from the city center of Old San Juan. Not too many people know about it and mainly locals go there. But that is the beauty of the beach, you don't have so many people that everyone is on a top of each other. The beach is called Playa Pena Beach. 
Myth #2:
PR was destroyed after the hurricane, so its better not to go. Disagree! Many houses near the ocean are still a mess, but not everywhere. I am sure it will take them some time to recover. But all tourist areas are functioning very well and Puerto Ricans are waiting for you. Sun is shining and incredible food is cooking. Also, you can always volunteer to help recovery and live in some places for free!
Myth #3: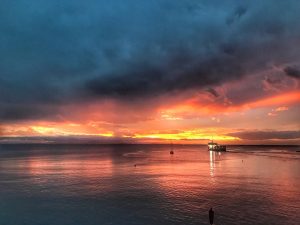 There is no public transportation in PR; I must rent the car.No.You don't have to. A car will definitely be helpful, but it is not a necessity. Besides it is not that cheap to rent; it is better to have a group of people with you to rent the car. You do have an option of buses, Uber, and shuttle services, that will take you to anywhere including ferry stations. All you need to do for that is to go to Terminal de Carros Publicos De Este and find a driver, or ask for Indigo, who helped me.