Trolltunga. Things you didn't know.
I have read million stories while on a way to conquer Trolltunga. Not all of them had information that I think is important to know. So I created this list with the things that you definitely need to know before traveling. I hope you will enjoy your trip to Norway as much I did and find this helpful:
Places for accommodation.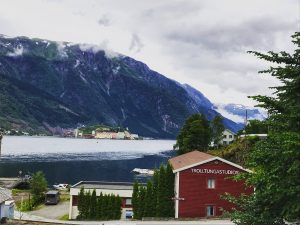 I have read that the closest town to the mountains is Odda. This is not quite true. Odda is the LARGEST closest town, where you can shop, dine or do some type of touristic activities. The very closest towns where you can stay or camp are Tyssedal and Skjeggedal. They don't offer much but if you want to wake up and walk to the entrance of the mountain Skjeggedal will be your Google and GPS search.
Transportation.
If you decided to stay in Odda, In which I  would recommend, you can take a local bus that will bring you to the mountain. First bus leaves at 6AM. Or you can take a taxi for about $12. My wonderful hostel offered a shuttle ride, also for some small fee and I say wonderful because I loved it and I recommend it as well.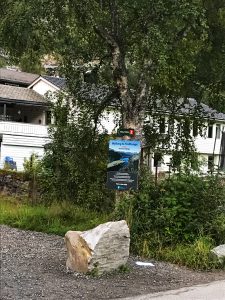 Time.
Try to start your hike as early as you can. Our shuttle ride took us about 20 minutes from Odda, so I technically started my hike at 6.20AM or so. If I would go again, 4.30-5AM would be my ideal start. There are several reasons for that, please keep reading.
Where to start.
Please note: there are two ways to start your hike! I didn't know about it, none of the 25+ articles I've read had this information. The shortest way to start is a hidden path that has a sign near the entrance of the parking lot. It is 1 mile to where the mountain begins. It is less populated and it is very steep! Some parts of it has a rope that helps you to climb. If you prefer an easier way to start then your choice will be a 4 mile serpentine road.You won't miss this one, because most of the people prefer to start with it and it is an actual road that starts from the parking lot.
How to dress.
All right.You started your real hike. Make sure you have your hiking boots on, windproof jacket and pants, and waterproof if possible. The reason I say it because you will be surprised how many people hike in shorts, fleece shirts and even sandals. Don't do it. Not when you visit Trolltunga. Be prepared and have everything up to the gloves with you. The hike is not super hard but is not as easy. The road goes up and down both ways and it gets muggy, some parts have snow and water. I have read some advice somewhere to bring extra socks with me, which I did, but I discovered this is absolutely unnecessary if you have good boots. It is also very windy and cold at the top.
Water.
I carried 2LT of water with me. I didn't drink it all and it was just additional weight. I think you should be fine with 1LT and you can always fill it up, natural springs are everywhere.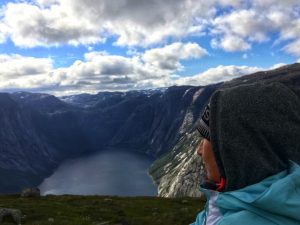 Also, I would rather have a thermos with me with some hot tea. It will be very much enjoyable once you reach the top.
Snacks.
Bring as much snacks as you think you need. I had a few energy bars and couple sandwiches. Didn't really finish it all. On the way up I was so driven to get there and I stopped for lunch break only once, and on the way back I just wanted to come down as fast as possible. But you should take as much breaks as you feel you need.
Why you should start early.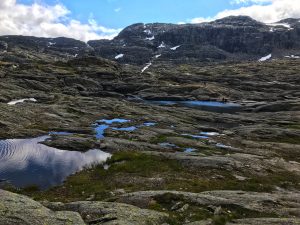 Now here come the reasons why you should start early. First, even if you hike alone you will soon find yourself surrounded by thousands, and I mean thousands of people. Trolltunga gets more and more popular year after year and at some point it feels like you took a public group tour because there are people in front of you and there are people following you. So if you want some privacy start as early as you can, most of the people start hiking between 6AM-8AM. Second, once you get to the top, there will be a line to get to the famous edge. I had to wait one hour to take a picture. The earlier you get there the less of a line there will be. Some people camp at the top of the summit. And third, it turns dark quickly on the mountain. If you look back around 3.30PM you see big dark clouds coming down on you. It is pretty scary.
The most important reason.
The most important reason to start earlier! There are no toilets or any type of observatory to hide if you really need to tinkle. And there is actually nowhere to hide at all when you have thousands of people around you. So…keep it in mind. Because —>>>
How long is the hike.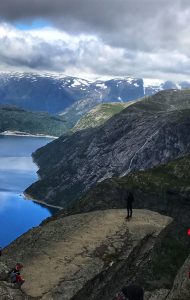 Someone will probably tell you that they hiked the mountain in 5 or 6 hours. Which could be true if they've done mountain trekking or rode a donkey. Other than that if you are a mediocre hiker and you stop for little breaks and for some pictures along the way, because nature is so beautiful, it is impossible to hike Trolltunga in less than 10 hours.
Way back.
Taking "short cut" back (remember part 4) could be little harder. Because you already lost a lot of energy and you are at your last steps back and you have to go down the steep rocks, so on the way back i would probably advise you to take that serpentine road. And if you took a bus, your last one to Odda will be at 8.30PM.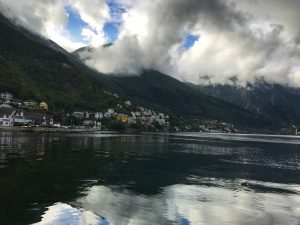 The hike is beautiful and it all well worth it. In the end, keep the rest of the night for relaxation and beautiful memories! Come back to where you'r staying, take a hot shower and enjoy that well deserved beer with stunning views over here.